We at the Down Syndrome Association of Northwest Indiana and Chicagoland are deeply grateful for generous support of our services and programs.  Contributions were made in memory of the following: 
This list includes donations for FY2017.  Despite our best efforts, errors and omissions may have occurred. Please accept our apology and notify us of the correction needed.
Blast Off! - DSA Summer Camp 2018
Monday, June 11, 2018 9:00 am - Thursday, June 14, 2018 12:00 pm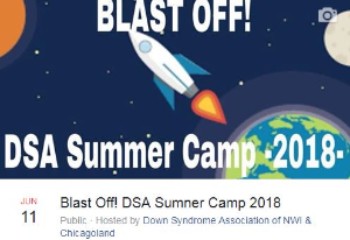 Location:
Down Syndrome Association of NWI & Chicagoland | 2906 Highway Ave, Highland 46322
Description:
DSA OF NWI SUMMER CAMP IS NOW FULL!
Thanks to everyone who registered and see you in June.

Members must log in to register as a participant.

Summer camp is Monday (06/11/18) - Thursday (06/14/18) (Kindergarten - 5th Grade - Morning Session) 9:00 am to 1:00 pm.
Summer camp is Monday (06/11/18) - Thursday (06/14/18) (6th Grade - Adult - Afternoon Session) 1pm - 4pm.

Sign up as a volunteer below.

Student participation for this program are available to members only.


This form stopped accepting submissions on June 11, 2018 9:00 am CDT.