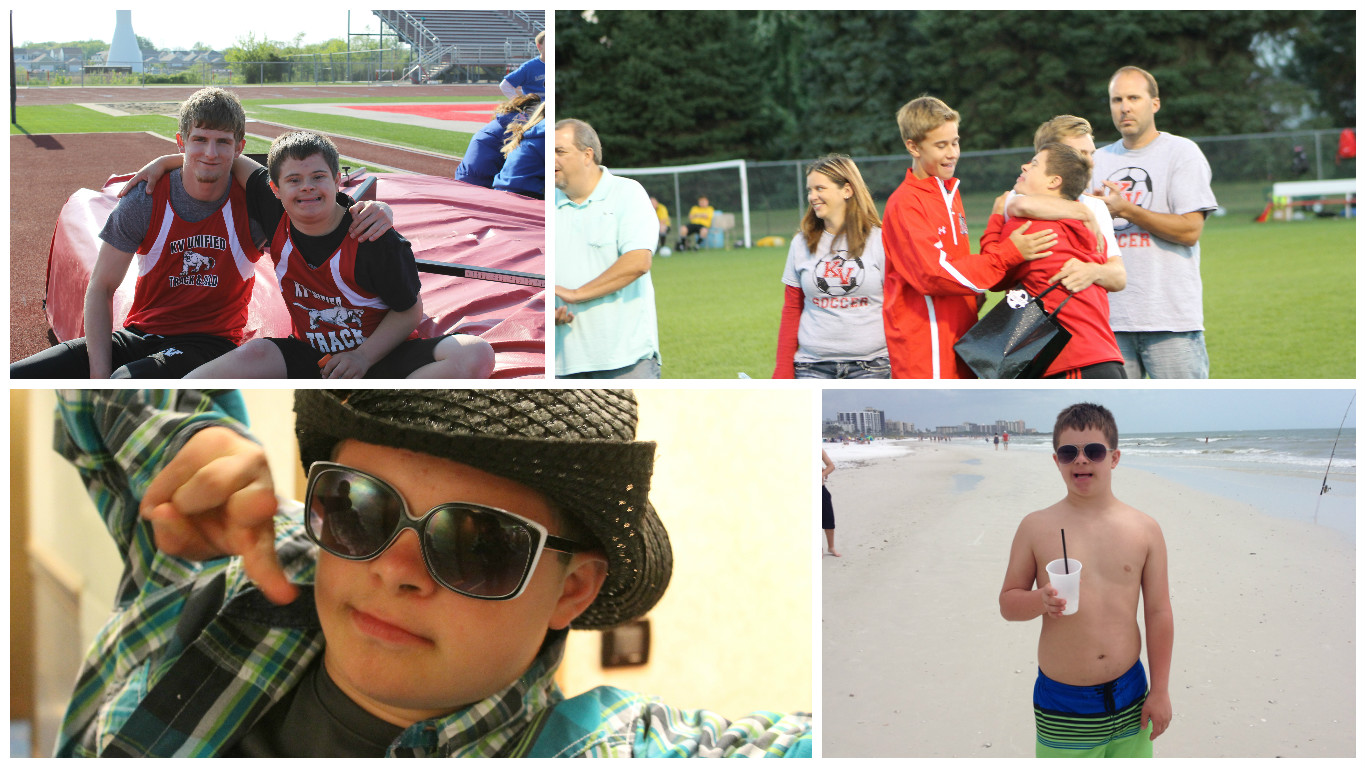 Nineteen years ago Down syndrome was just a word we had read about. Now that word means so much more to us, our family, school and community. Brayden McKim was born April 17, 1998. Since then we have learned that the word Down syndrome comes with infectious smiles, acceptance, hard work, joy in the small things, accomplishments we take for granted, knowledge and friendships we never would have appreciated.
It wasn't always easy and it still isn't at times. But as the years go by I understand more and more his purpose and how Brayden having Down syndrome has made me a better person. When he was little we were busy making sure he got his therapies, keeping up on all the medical check ups, homework and pushing for him to be included in school. Now as we approach graduation and a new chapter in his life, I often reflect on how much he has impacted the world around him. He was the first kid in elementary school with his IQ to be mainstreamed most of his day. He has swam countless Special Olympics Competitions and swam middle school swim meets with his peers. Not a person was sitting as the crowd cheered him on as he finished minutes behind the other swimmers.
During his high school years my nephew and some of Brayden's friends have brought a program called Champions Together to KV so that Brayden and other students with disabilities can participate in Special Olympic Sports representing their school. Through this program Brayden was able to run in a unified relay team at a football game. this year. I will never forget the crowd of his peers and the fans cheering and chanting his name as he ran to the finish line. Brayden has touched their lives. The secretary, janitor, teachers, peers, parent's of his peers at some point many of these people have approached us and told us how much Brayden has made a difference in their lives.
Just like most 18 year olds he likes to tease little kids, flirt with the pretty girls, eat pizza, watch movies and listen to music. And as his parents who knew very little about Down syndrome 19 years ago, we are thankful for the patience, acceptance, perseverance and genuine happiness he has taught us. We do not know what the next chapter of his life looks like but we do know that he will make an impact.
Darla McKim