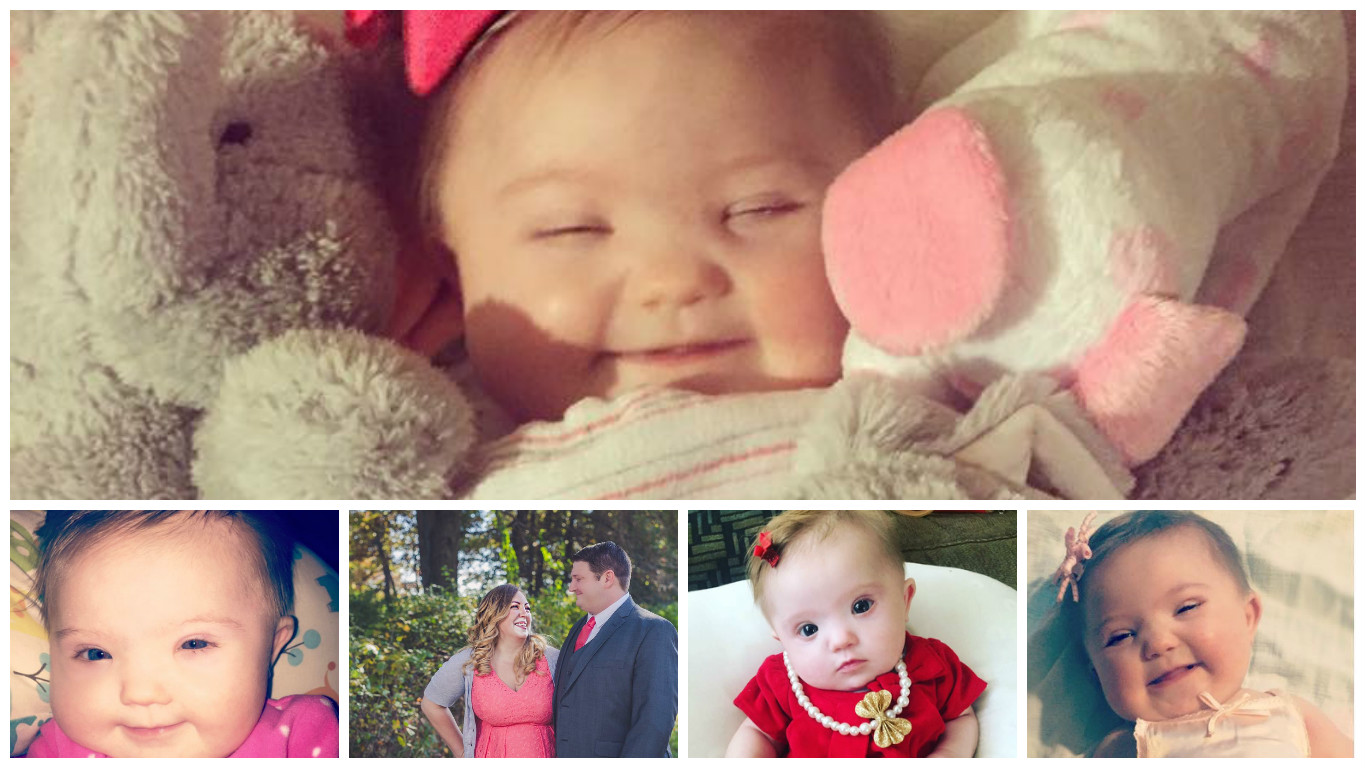 I had what I like to call a "surprise diagnosis", meaning I didn't know Felicity had Down Syndrome until she was born. I think those of us who have had the surprise diagnosis know all of the feelings that may entail, but those feelings for me stemmed from the very beginning. I had a sneaking suspicion for a few weeks, but decided to finally take the test. When I told my husband, he gave me the biggest hug I had ever had. I'd never seen him so happy. The moment I saw "pregnant" on the test is the moment everything changed and it's also the same moment I began picturing my child.
Who she would be, what he would be like. What she would be when she grew up, how I would raise him. If I wanted a boy or a girl and if I'd be a better mom raising a specific sex.
The word "pregnant" on the test is when all my expectations began for my child and myself. As the pregnancy wore on, they only built and flourished. She was going to be quiet but funny, polite, sweet, strong, independent. The independent part was so strong for me. For so many reasons. She was going to be beautiful and do wonderful amazing things.
When she was born and diagnosed as having Down Syndrome, that life came crashing down. That loss seemed to me, the hardest loss of my life.
One night, right before Felicity turned three months, I thought about the feelings of grief. It occurred to me that she's exactly who she always was. I wasn't mourning the child I didn't have. I was mourning my expectations, the life I had built for her, the fantasy. She didn't change when she was born, she was always Felicity. This Felicity. She is mine and I am hers.
No child turns out how we expect them. We can't dream them into existence. I did get a few things right, she's beautiful, perfect, and funny. She can even find a smile when she's sick. No more mourning. Now I'm free, and no longer have preconceived notions of who she must be. It's a mystery and I believe this will allow her to shine. There will still be hard days, there have been a few already, but isn't that the case with any parent? I often thought about what I would say to my daughter when she inevitably asks me how I felt and I will tell her this: When I received the news of your diagnosis, I felt like I was twisting in the wind. You see, I never was upset about who you are. I was so incredibly sad because my biggest wish for you, since the day I found out about you, was that you could have an easy life and I would make it possible. I would give you the life I never had.
When you were born, and they told me you had Down Syndrome, I was so very sad because I felt I had brought you into such a hard life. The one thing I promised myself you wouldn't experience. I mourned what I could not give you and who I thought you could be with a life that didn't include struggle, tears, hurt, loneliness, pain, betrayal, and so much more. That was my wish for you.
My beautiful girl, I realize now, life is just that. It's heartache, pain, sadness, confusion, worry, and difficulties. It's also filled with happiness, love, joy, beauty, art, books, music, color, laughter, friends, family and so much more. You can't appreciate the beauty of it all without knowing the other side. My job is not to protect you sweet girl. My job is to love you and be an anchor in this life. Especially when you're twisting in the wind.
When the world gets hard, I am here. When you need home, I am here. Know that I love you more and more everyday, which I didn't think possible. I am excited every morning I wake up because you are now in this world. I never knew joy, love, beauty, laughter, any of it, as I do now. Because of you, everything is sweeter and lovelier than I ever knew it to be.