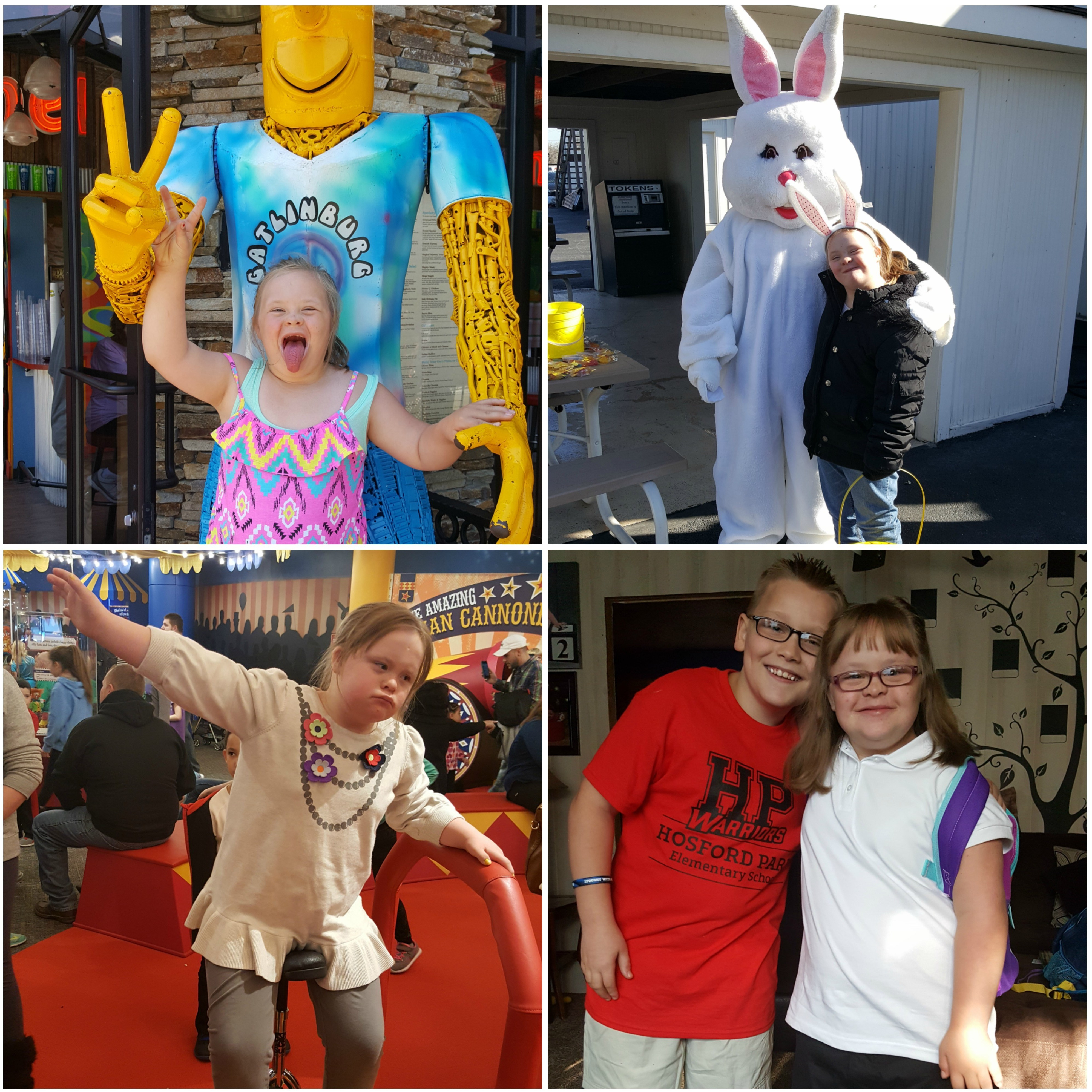 This is our story about our beautiful blessing Jina...
Summer of 2005 I found out I was pregnant with what I thought was my 4th child.  I went in for my routine ultra sound, to find out I was not only pregnant with my 4th child, but was having twins - a boy and a girl.  Man my head was spinning.   I already had my hands full with three other children, but twins coming too.  At that time, I did not know what God had planned for my family.
The day I had my beautiful twins, my new baby girl was rushed away from me fast.  Doctors, nurses, and student interns, were all over me telling me how beautiful and special my new baby girl was.  I didn't see her yet so I still had no idea how special my new baby really was!! After a couple hours, a student nurse came in my room to tell me that they suspected that Jina had Down Syndrome and that the doctor would be in to see me soon.  
A million things were going through my mind... When the doctor came in, he told me Jina had Down syndrome, but we would still need genetic testing.  Then he proceeded to ask me if I knew during my pregnancy.  I told him no.  He said maybe that was a good thing because there was no way to save my health baby boy and abort her.  Those words hurt me so much.  There was never a thought in my mind to do that.
I think Jina has taught our family more than we can ever teach her.  We have learned no matter how hard our days are, how stressed we can get from daily life, that just a hug can change all that, and no matter what obstacles are in front of us, there is always a solution.  Most importantly, she taught us a whole new definition of love!!  
Jina is very inquisitive and is always eager to learn.  She is always willing to help.  She always offers a hug if she sees someone is upset!! One of our favorite movies is the Memory Keepers' Daughter.  In that movie, there was a story about a bunny being different.  They said you're not a funny bunny your my hunny bunny.  A few years ago, my husband wrote this poem for her after he saw the movie.
Jina Michelle Taus HUNNY BUNNY

I watch this little girl get bigger and bigger everyday
She never ceases to amaze me by the things she says
Our perfect little angel yes she is
everyday and always in daddy's biz
One day she will grow up and make us proud
And stand up in front of the world aloud
Mommy and daddy pray everyday
That this little girl will rule the world someday
Who is this little woman that I speak of
Well it's Jina of course!!!!!
The only little girl who can fill anyone's day full of love.
To write a short story about Jina is impossible. Her days are filled with helping others, weird videos on YouTube, and making sure her niece Kinleigh has all the toys she needs to get in trouble. Jina has her own language (that we have all learned).  Jina loves to play with others and her daddy's tools lol. Her everyday life is filled with absolute joy.
Penny Herd