We at the Down Syndrome Association of Northwest Indiana and Chicagoland are deeply grateful for generous support of our services and programs.  Contributions were made in memory of the following: 
This list includes donations for FY2017.  Despite our best efforts, errors and omissions may have occurred. Please accept our apology and notify us of the correction needed.
Collect Change to Make a Change -Jewel/Osco - Dyer
Saturday, July 14, 2018 11:00 am - 4:00 pm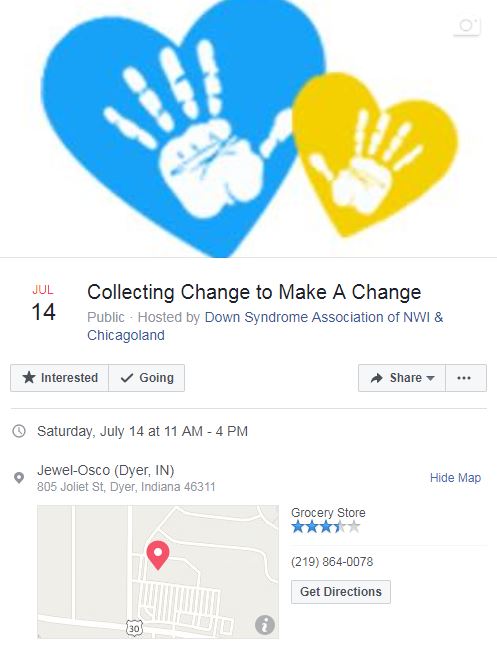 Location:
Jewel/Osco, 805 Joliet St, Dyer, IN 46311
Description:
Please join us to collect Change to make a change or stop by to help out an amazing local non-profit!

Can you volunteer?
Please let us know what time(s) you are willing to help.

11 am - 12pm
12pm - 1pm
1pm - 2pm
2pm - 3pm
3pm - 4pm
This form stopped accepting submissions on July 13, 2018 12:00 am CDT.
Contact Information:
Down Syndrome Assoc. of NWI & Chicagoland