The DSA of NWI & Chicagoland's staff has a strong commitment to serving the many constituents of our organization. But first and foremost, they focus their energies on those who take advantage of our programs and services.
Our board represents a cross-section of our community and has a passion for the Down Syndrome Association of Northwest Indiana and those we serve. The members work hard to ensure long-term sustainability of our organization and oversee that the funds raised directly affect those in need of our services.
Executive Board
Board of Directors
Committee Chairs
Interns
Blast Off! - DSA Summer Camp 2018
Monday, June 11, 2018 9:00 am - Thursday, June 14, 2018 12:00 pm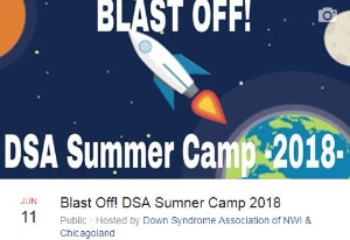 Location:
Down Syndrome Association of NWI & Chicagoland | 2906 Highway Ave, Highland 46322
Description:
DSA OF NWI SUMMER CAMP IS NOW FULL!
Thanks to everyone who registered and see you in June.

Members must log in to register as a participant.

Summer camp is Monday (06/11/18) - Thursday (06/14/18) (Kindergarten - 5th Grade - Morning Session) 9:00 am to 1:00 pm.
Summer camp is Monday (06/11/18) - Thursday (06/14/18) (6th Grade - Adult - Afternoon Session) 1pm - 4pm.

Sign up as a volunteer below.

Student participation for this program are available to members only.


This form stopped accepting submissions on June 11, 2018 9:00 am CDT.